At least 12 people were killed Friday in attacks on protesters in Syria, according to activists. The toll included two killed in a Damascus suburb and 10 more killed in the restive southern city of Daraa.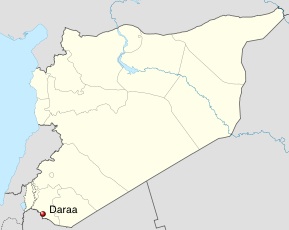 Daraa, near the Jordanian border, has been the center of Syria's protest movement these past two weeks, since police in the city shot and killed six protesters. Since that time Daraa's rallies have grown, as has violence against protesters there.
The continued violence and the threats against them have not scared off demonstrators, however, and tens of thousands were reported nationwide. Assad has blamed Israel and "foreign conspirators" for the protests.
But the demands of the protesters are largely familiar, the same reforms and free elections sought in many other countries across the region in recent days. The reaction, violent crackdowns and snipers on rooftops, is also all too familiar.
At this point it is unclear what Assad intends to do about the demonstrations, as the rapid growth appears to have caught his regime off-guard. Between violence, accusations, and vague promises of reform, it seems he is going down the same failed road Egypt and Tunisia did, and which Yemen started out on before mass defections made such crackdowns virtually impossible.