The governor of the Waigal District of Afghanistan's Nuristan Province has been expelled from his district by a Taliban offensive, officials are confirming. Over 300 Taliban fighters attacked the district, chasing both governor and police from the area.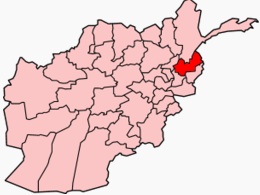 Provincial police commander Gen. Shams-ul-Rahman Zahid called the loss of the district a "tactical withdrawal," saying the forces did not have enough ammunition to fight so many insurgents.
Taliban spokesman Zabihullah Mujahid said his forces attacked around midnight, and police confirmed the retreat around 5:00 am. Mujahid said they captured 12 police and captured a number of military vehicles and weapons.
The Taliban has been competing with the US-backed Karzai government in Nuristan for years, and has considerable sway across the province. The complete takeover of the district shows just how deep their influence is, and suggests the Karzai government's control in the province is slipping even further.