There was ample coverage of the loss of a US F-15 fighter jet over Libya Tuesday, and it always came with reassurances that the crew was safe. Less safe, however, were the Libyan civilians who came to the aid of one of the crew.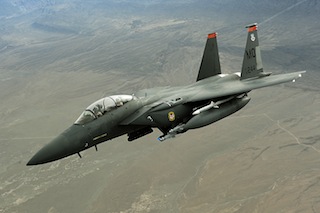 That's because the civilians who met the plane's weapons officer and offered him fruit juice while he waited to be rescued were attacked by US Marines during the brief ground incursion meant to rescue the crew. Some of the reports suggest the Marines arrived in a V-22 Osprey attack helicopter and opened fire on the crowd with it.
Six Libyan civilians were shot in the attack, including a young boy who local hospital officials say may lose his leg. The weapons officer had been found in a sheep field and was met by the civilians, who were backers of the anti-Gadhafi rebellion.
The incident is news not just for the tragic outcome, but because despite the explicit UN prohibition on "occupation troops" being spun as a broad prohibition on ground troops, US Marines were indeed on the ground, in Libya, in a field full of sheep.
The pilot was initially picked up by rebel soldiers, who the Marines reported treated him "with dignity and respect" before handing him over to the troops. It does not appear there was any incident with regards to him. The Marines have yet to comment on the shootings in the recovery of the weapons officer.
The F-15 was flying out of Italy at the time of the crash, and officials are blaming a system malfunction. It is the first aircraft reported lost since the US and France started the Libyan War on Saturday. An F-15E Strike Eagle costs approximately $31 million.