Having been instrumental in pushing the UN to approve the resolution authorizing the no-fly zone over Libya, the Arab League has found itself quickly regretting its Faustian bargain. Now, with reports of civilian casualties on the rise, they are condemning the massive air strikes by the US, France and Britain.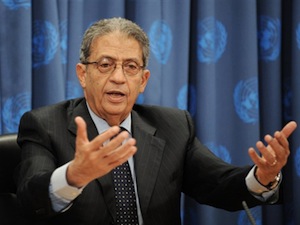 "What is happening in Libya differs from the aim of imposing a no-fly zone, and what we want is the protection of civilians and not the bombardment of more civilians," insisted Arab League chief and Egyptian presidential hopeful Amr Moussa.
The split comes at a time when Western officials are trying to claim broad Arab support for the action. The escalation of the Western intervention has come much faster than anyone imagined, from a Thursday approval of a no-fly zone to mass air strikes on Saturday. Still, with Saturday also serving as the eight-year anniversary of the invasion of Iraq, the notion that such a resolution would fall victim to "mission creep" should not come as a surprise.
In addition to the Arab League, the African Union has also called for an immediate attack on all the strikes against Libya, saying it feared "serious humanitarian consequences." Though the figures cannot be confirmed on the ground (particularly with the US warning journalists away from Libya), the reports as of late Sunday morning are that as many as 64 people have been killed in the air strikes and hundreds wounded. US commander Admiral Michael Mullen insists he has seen no reports of any civilian casualties at all.