Afghan President Hamid Karzai's Saturday call for NATO and the US to stop all operations within Afghanistan didn't actually mean that he wanted an end to the NATO occupation, his spokesman insisted today.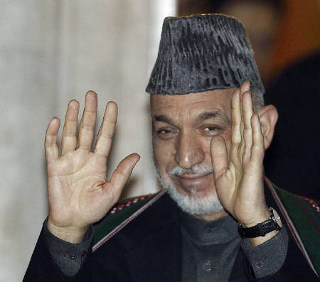 Rather, the spokesman, Waheed Omar, insisted that Karzai had only meant that the US should "stop those operations that caused civilian casualties," and this is just a continuation of long-standing calls to stop killing civilians.
What Karzai actually said was "I ask NATO and US, with honor and humbleness and not with arrogance, to stop operations in our soil." The comments came during a visit to Kunar Province after a NATO helicopter killed nine children in the province.
The comment, it seems, is the latest in a long line of statements made by the Afghan President that he quickly backs off of. A previous notable example was in April when he threatened to join the insurgency during a visit to Kandahar Province.