Fresh off a visit to Brussels, Secretary of Defense Robert Gates arrived in Bahrain today for private talks with King Hamad, where he reportedly urged some unspecified reforms and talks with the massive protest movement demanding his ouster.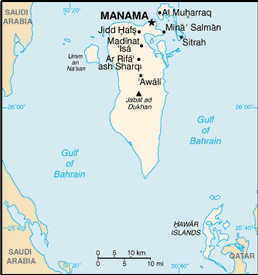 Pentagon officials insisted Gates' visit was primarily to reassure King Hamad that the US is "committed" to their military presence in the nation (the island is home to America's 5th fleet), and the calls for reform appear very secondary.
The calls for reforms may well have been embraced early on, when the protest movement was simply demanding improved conditions and more freedom. Since the violent crackdowns by the regime, however, the calls have increasingly been for a full ouster of the monarchy and its replacement with a democracy, something the US appears extremely averse to.
And the crackdowns are continuing today, as reports have police forces, backing with pro-regime protesters, attacking the massive anti-regime demonstrations as they got too close to the royal palace. The lesson that these crackdowns only spark more anger appears to be lost on officials.