Basic reason scored something of a victory today as the UN Human Rights Council announced that it was postponing the vote to affirm a report praising Libyan dictator Moammar Gadhafi's regime for its human rights record.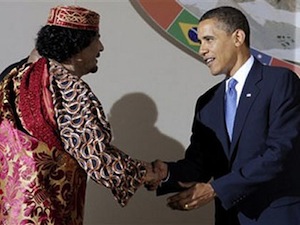 The report (PDF) said that the Gadhafi regime protected "not only political rights, but also economic, social and cultural rights," praised it for the nation's treatment of religious minorities, and the "human rights training" received by security forces. It was to be approved at a vote later this month.
The report, of course, was written before the massive public protests against the Gadhafi regime broke out, and likewise before the regime started massacring protesters in the thousands nationwide.
The move to "postpone" the vote was met with some praise, but also prompted some to question why the vote was only delayed and not canceled entirely. The UN has not made it clear when the new vote would be held.