Bahrain's government angrily denied media reports that the Saudi Arabian government had dispatched 30 additional tanks for the regime to use in crushing protesters, insisting the entire story was made up by the Iranian state media.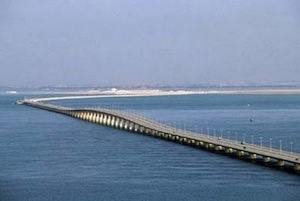 But while they insisted that Iran's PressTV was the source of the story the network's English language website clearly cites the report as coming from Egyptian newspaper al-Masry al-Youm.
And indeed, the Egyptian paper reports that eyewitnesses saw 15 tank carriers, each carrying two Saudi tanks, traveling across the King Fahd causeway, the massive bridge between Saudi Arabia and the island nation. The move comes just a day ahead of massive Tuesday protests.
And while the Bahraini government denied this new influx of hardware, the nation has already been quite eager to use their own US-provided tanks to attack protesters. The Saudis have likewise made it clear they oppose any regime change in Bahrain, and are willing to support the Sunni monarch in any way necessary to prevent it.