Though the internal protests in Tripoli have more or less been crushed by a brutal crackdown from the mercenary forces still loyal to Moammar Gadhafi, the massive nationwide movement continues to spread, and moves inexorably toward that last bastion of regime power, the Libyan capital.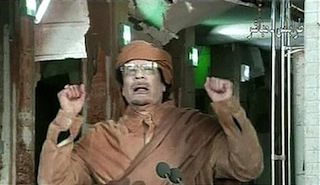 At the moment this means Zawiya, a city just outside of Tripoli, where major clashes were reported earlier today as protesters and members of the military loyal to them apparently seized control of the city, the "gateway to Tripoli," in fighting that left 17 dead.
There were clashes still outside the city and the mercenary forces have been able to strike back and so far keep the protesters from infiltrating the city, or at least what is left of it. With mercenaries in the streets demanding everyone prove their loyalty, the city has become a virtual ghost town.
But the forces are clearly closing in, and the march on Tripoli seems inexorable, and likely to coincide with Friday prayers. As Gadhafi's speeches get wilder and his mercenaries more active, it seems his hold over even the capital is bound to fall soon.