Egypt's Muslim Brotherhood, one of the largest of the opposition factions supporting the popular uprising across the nation, has threatened to withdraw its support from the ongoing talks with Egyptian Vice President Omar Suleiman.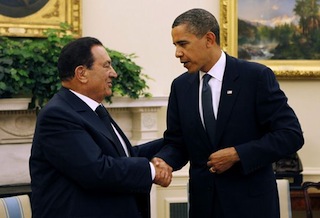 According to spokesman Essam el-Erian, the government's negotiators continue to refuse to even discuss some of the principle demands of the protesters, including the long-standing number one demand that President Hosni Mubarak step down.
US officials have been touting the "progress" made by the Egyptian government in the talks, and many are expressing shock and a bit of annoyance that the protesters haven't abandoned Tahrir Square and returned to normal life under the dictatorship, waiting for the government to decide what "reforms" they will be allowed.
This doesn't appear likely, however, as the protesters continue to take to the streets and there seems to be little indication, despite the administration's claims, that the negotiations are going to result in some sort of agreement between the two sides.