Though it seems he will be able to form a narrow majority government even without them, Lebanese Prime Minister-Designate Nijab Mikati's efforts to put together coalition partners for his cabinet seems to be faltering.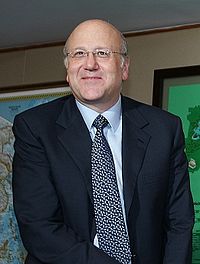 Officials from former Prime Minister Saad Hariri's March 14 bloc today ruled out joining in a coalition government with Mikati, insisting he was the beneficiary of a "political coup" by the March 8 bloc, which left the Hariri government earlier this month, toppling it.
Though March 14 narrowly won the last election, March 8 was a close second, and the two joined a unity government after Israel threatened to invade. When March 8 left, one of the March 14 partners, the Druze-dominated Progressive Socialist Party, went with them.
The support of the PSP gives Mikati enough votes to form a government, but a narrow majority government dominated by Hezbollah will face major diplomatic challenges if it is unable to court a few more of March 14's parties, not to mention rioting in the Sunni dominated north.