While most of the world reacted with the predictable combination of shock and eagerness for more security measures in the wake of Monday's suicide bombing in the Moscow Domodedovo Airport, Georgian President Mikhail Saakashvili is openly cheering it.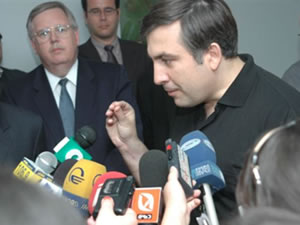 According to Saakashvili, the bombing was "payback" for the brief Russo-Georgian War of 2008, and that he had recently told Russian Prime Minister Vladimir Putin that he would face "payback for his country for supporting separatists."
The comments came in the wake of Putin's own statement that Chechnya, which was initially assumed to be the source of the attack, had nothing to do with it. Putin did not describe who was responsible, however.
Saakashvili's comments, though presumably not a claim of responsibility, are likely to spark another round of anti-Georgian sentiments in Russia. Tensions between the two sides have flamed up repeatedly since the war, and have regularly led to attacks on Georgian immigrants living in Russia.