The March 8 coalition moved closer to forming a majority government in Lebanon today, with confirmation that the kingmaking Druze leader Walid Jumblatt and a number of his supporters will back Hezbollah's choice for prime minister, former Prime Minister Najib Mikati. This gives Mikati at least the 65 votes needed to form his government.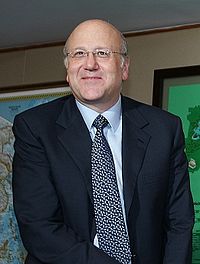 Mikati seems like an extremely conciliatory choice for Hezbollah, as one of the most moderate Sunnis in the March 8 bloc, which is dominated by Shi'ites and Christians. A long-standing agreement insists that Lebanon's Prime Minister be a Sunni, its President a Christian, and its speaker of parliament a Shi'ite.
The Harvard-educated Mikati was #374 on Forbes' most recent list of richest people in the world, and along with his brother Taha Mikati, is tied for the richest man in Lebanon. The two brothers founded Investcom, a telecommunications giant across Africa and the Middle East.
Mikati was also briefly the prime minister in 2005, laying the groundwork for the 2005 elections, which the rival March 14 bloc won. Since then he has served as an MP from Tripoli, as well as taking part in a number of foreign policy initiatives.
Though a surprisingly pro-West candidate for the March 8 bloc, Mikati is also on good terms with the Syrian government. Outgoing Prime Minister Saad Hariri has ruled out offers to join Mikati's government as a minority partner, saying it was like throwing sand in his face to even be asked.
The US has threatened to withdraw all foreign aid to Lebanon should the March 8 bloc form a government. It remains to be seen if they will follow through on the threat, but given Mikati's history as a moderate it will be extremely difficult for the administration to portray this as an "Iran-style government" as officials had previously suggested.