In the wake of the Tucson shooting, Capitol police have reportedly approached members of Congress to submit lists of potential "threats" to them, and it seems that the list includes a number a political opponents included solely for public criticism.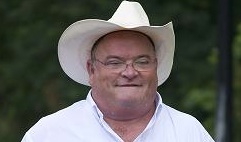 In Christian County, Missouri, the FBI moved against a blogger who was critical of Rep. Billy Long (R – MO) during last year's campaign, There was no evidence the blogger ever "threatened" Rep. Long in any way, but he did publicly criticize him during a campaign event.
The blogger in question was not arrested, and he insisted he "stopped going to campaign events in September." The FBI declined to comment on the ongoing investigation, but Sherriff Jim Arnott, who accompanied the FBI on the "visit" said he wasn't the only one that to be scrutinized in the area.
A number of Congressmen have openly discussed imposing harsh new curbs on political speech in the wake of the Tucson shooting, but so far none of those laws has passed, and it seems beyond the simple intimidation factor the FBI can do very little about political critics of seated Congressmen at the moment.