The politically motivated violence in Karachi, Pakistan has flared up once again in the wake of last night's killing of a Geo News reporter in the city. The police once again stand helpless as at least 24 people have been slain in the past 24 hours.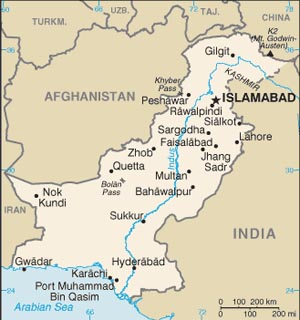 Violence has been an all-too-common occurance between the city's traditionally dominant Muttahida Qaumi Movement (MQM), and the Awami National Party (ANP), which has a power bloc amongst the city's ethnic Pashtuns.
And once again this was the case, with members of both blocs insisting the violence was entirely the other party's fault. The split between MQM and ANP followers, both of whom are technically allied with the ruling PPP, is political, religious and ethnic in nature.
The biggest single incident of the day took place in the slum of Orangi Town, where a bus was attacked by gunmen. ANP leaders are calling for the military to invade the city and seize all of the weapons, whether held legally or not.