Pakistani President Asif Ali Zardari has announced that he will extend his stay in the city of Karachi as he tries to repair his ruling Pakistani Peoples Party (PPP)'s ties with the Muttahida Qaumi Movement (MQM), the dominant power player in Pakistan's far south who announced they were leaving the PPP's coalition government yesterday.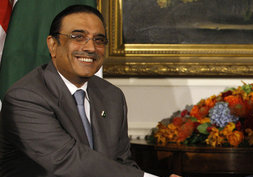 Officials in the Pakistani government are downplaying the situation, with Interior Minister Rehman Malik insisting the two parties continue to have strong ties, but the reality is that the already weak coalition is getting a lot weaker, and its ability to survive remains in question.
The MQM and PPP alliance has been increasingly untenable of late, as the ANP, a close PPP affiliate in Karachi, has been openly clashing with the MQM, and the two have been accused of political violence against one another in the crucial city.
The strongly pro-US (and by extension pro-war) Zardari government would likely lose big in early elections, and has repeatedly insisted they will keep the government together at any cost. But while they have shown a surprising ability to keep the opposition from forcing a new vote so far, it has come at a major cost in credibility, and the ruling coalition is increasingly so powerless that many are predicting a new military coup.