In the 1971 case New York Times Co. v. United States, the Supreme Court upheld the rights of media outlets to publish information regarding government misconduct without fear of government censorship. Some 40 years later, the New York Times is under fire again.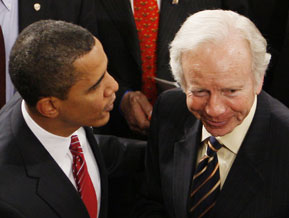 Sen. Joseph Lieberman (I – CT) has used his position as chairman of the Senate Committee on Homeland Security to appoint himself as something of a de facto official censor, angrily buffaloing businesses to stifle the publication of recent embarrassing cables with a surprising level of success.
Now his eyes are squarely facing the New York Times, the only official partner of WikiLeaks that is a US media outlet. Declaring the Times a "bad citizen" for publishing the documents, he urged the Justice Department to move against them, saying they should try to prosecute them under the espionage act.
Which, incredibly, is the exact same argument made against the Times in 1971, and which the Supreme Court already ruled on. And while the New York Times is better connected to WikiLeaks, many US media outlets have covered the content of the leaks, and the attempt to force the broad censorship of the US press in this regard seems difficult. Though the mood in favor of censorship (and execution) of dissidents is growing among officials, it would be extremely difficult to test in court and, given official predilection for unilateral moves without court approval, it is difficult to fathom that the Times will be pressed directly on this issue.