Major Internet retailer Amazon.com is facing a growing public backlash and a call for boycotts, including a call by Antiwar.com, following its decision this morning to oust WikiLeaks.org from its cloud server hosting service.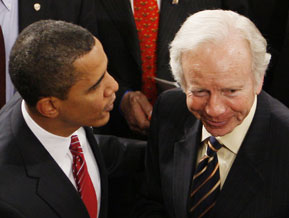 The move came following pressure from a number of top officials, including Sen. Joe Lieberman (I – CT), who slammed Amazon's decision in allowing the whistleblower to host information embarrassing to the US government.
Amazon.com has refused to comment on its removal but appears to have done so without giving WikiLeaks advanced notice, leaving their site down for much of the morning. The site is now back up and is based in Uppsala, Sweden. The new host in Bahnhof Internet AB.
WikiLeaks condemned the decision, saying "if Amazon are so uncomfortable with the first amendment, they should get out of the business of selling books." A number of consumers have already vowed to boycott Amazon over the decision.
The call for a formal boycott is also growing from a number of groups, including Antiwar.com, which removed Amazon.com's advertising links from its website in the wake of the announcement. In the past year Antiwar.com received approximately $10,000 through its referral links to Amazon.
Technically speaking, Amazon's web hosting service allows all accounts to be banned at any time for virtually any reason. The decision to ban such an important website and at such an important time appears to have sparked considerable reaction.
And praise from Sen. Lieberman, who said Amazon has "set the standard for other companies" on the issue. As this standard appears to be removing any content the government finds sufficiently objectionable, this could be an extremely dangerous precedent.