In a move that may bring further attention to the extralegal assassination campaign being conducted by the CIA against Pakistan's tribal areas, Pakistani Kareem Khan is looking to launch a wrongful death lawsuit targeting CIA director Leon Panetta and others.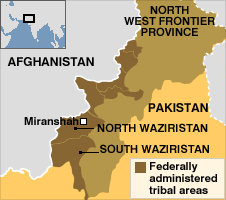 The suit would seek $500 million in damages for the assassination of his 18 year old son Zaenullah and his brother Asif Iqbal in Mir Ali. Asif Iqbal was employed as a school teacher and Zaenullah was training to be a teacher as well. Kareem, a journalists, was away working in Islamabad at the time of the attack.
Though the US will almost certainly stonewall such a trial and Pakistan's government is unlikely to let it get anywhere it will likely bring more attention to the program. The assassinations, reported last December, reported the victims were "suspected Islamic militants," though officials at the time conceded they have no evidence to support this allegation.
Usually the "suspicion" is the end of things, as most US attacks leave no survivors to come back on them. In this case, however, Khan was not present and we get a rare glimpse into the reality that these "suspects" are all too often just random people, and the basis of suspicion begins and ends with the assassination attempt itself.