Abdikafi Hilowle Osman, a top official with the self-proclaimed Somali "transitional national government" (TNG) has accused a large number of foreign aid groups of being secretly in league with the al-Shabaab insurgency.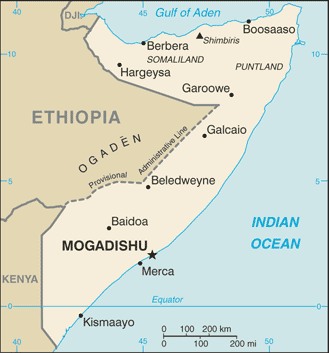 The list of those Hilowle blamed in his comments is quite extensive, and included the Red Cross, which has been operating in Somalia for decades. Hilowle threatened to ban all of the aid agencies his group believes are operating in concert with the insurgency.
Beyond the TNG's prospective bans, the al-Shabaab movement has also banned a handful of European aid groups in recent months, accusing them of proselytizing to the population. The ongoing civil war between the groups has put large numbers of civilians in harms way, and left many dependent on foreign aid.
The Red Cross has yet to respond to the allegations, but has issued a number of reports embarrassing to the TNG and its African Union troops in recent weeks. Exactly how the TNG would have information regarding who the Red Cross aids is unclear at any rate, as their organization controls only a trivial portion of the country surrounding the presidential palace and the Red Cross operates in civilian areas, of which the TNG controls almost none.