At least 21 civilians were killed in the Somali city of Mogadishu today and as many as 50 others were reported wounded, according to medical teams familiar with the situation.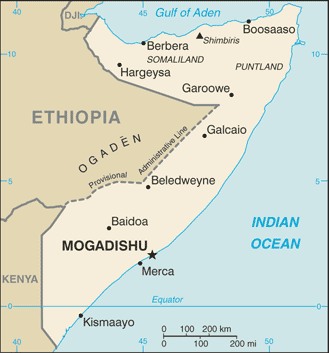 The bulk of the civilian deaths, as is so often the case, came in the Bakara Market, which was once again shelled by African Union forces. AU mortar teams hit the vegetable sellers in the market and at least 16 civilians were killed.
The attack on the market came in the wake of an IED explosion against an AU convoy. Why they chose to shell a market full of civilians "in retaliation" is unclear, but is largely in keeping with what the international forces have done in the past. A leaked AU internal report has expressed concern about the mostly Ugandan "peacekeeping" force's tendancy to target civilians.
In addition to the civilians killed in Bakara, at least five civilians were also reported killed in the cross-fire of a gunbattle between AU troops and al-Shabaab militants. The AU confirmed the battle but claimed no knowledge of civilian deaths.