With the Lisbon summit about to begin NATO chief Anders Fogh Rasmussen detailed the choices that the member nations are facing for the Afghanistan War. The choice is between continuing the Afghan War more or less indefinitely and… well that's the only choice.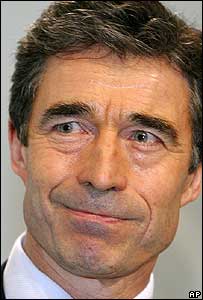 "I consider if of the utmost importance to continue our military operations," said Rasmussen, declaring "so there is no alternative to continuing military operations." NATO cooperated in the US invasion in 2001 and even though the situation is dramatically worse over nine years later, the option of "not continuing military operations" apparently isn't even coming up.
NATO's strategy sessions so far have involved pledging ever increasing billions of funding for the floundering Afghan government and harranguing member nations to throw growing numbers of troops at the endless insurgency. Lisbon appears to be little different.
Except that popular opinion for the war is on the decline virtually throughout NATO, and so officials will have to pretend that the record death tolls are vindication of their failing strategy before they inevitably rubber stamp it for another year.