Though for all intents and purposes the peace talks appear to be fully dead, the Obama Administration is continuing to make additional pledges to visiting Israeli Prime Minister Benjamin Netanyahu, assuring him of further US largesse in return for a peace deal that is seemingly not coming.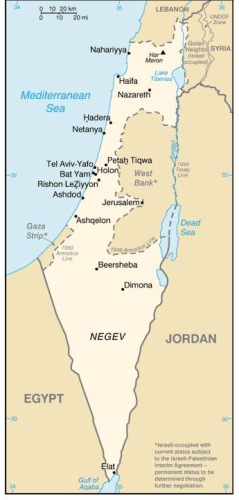 Secretary of State Hillary Clinton was up to make promises today, assuring Netanyahu of America's "unshakable commitment to Israel's security." She assured that the borders of any Palestinian state would reflect Israel's requirements.
More than what Secretary Clinton said was what she didn't say, however. In the course of the talks she made no references to the Israeli settlements, nor to the issue of Israel's continued expansion of those settlements, which is the reason the talks have stalled.
And while it is unclear if this is directly related to the US pledges of additional support, media reports suggest the US is dramatically increasing the number of weapons it is storing in Israel, adding a number of smart bombs to the stockpile. Though nominally America's stockpile in case they need it, weapons in the stockpile have been handed over to Israel during its assorted wars.