Though the Obama Administration has used the threat of military assaults on Iran the way past administrations might have used punctuation, Israeli Prime Minister Benjamin Netanyahu is planning to formally complain to Vice President Joe Biden that they're not threatening Iran often enough.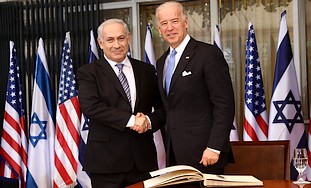 The two will be meeting in New Orleans as part of a state visit by the Israeli PM, and official say Netanyahu is planning to reiterate his outrage at the upcoming P5+1 talks with Iran and to also condemn the UN Security Council sanctions against Iran as not nearly strong enough.
The centerpiece of his prepared talking points, however, will clearly be the demand for the administration to increase the number and "credibility" of its threats to attack Iran, nominally to punish the nation for its civilian nuclear program.
Israel has claimed Iran's nuclear program is a plot to create nuclear weapon. The Iranian program is under IAEA supervision, however, and has repeatedly been certified as not diverting any material by IAEA officials. Israel, by contrast, refuses to allow its nuclear program to face any international scrutiny, and is known to possess a massive arsenal of nuclear weapons, though it is not a member of the nuclear non-proliferation treaty.