Citing outrage over the state visit by Iranian President Mahmoud Ahmadinejad to Lebanon, US Congressmen are said to be threatening to once again pull $100 million in US military aid from Lebanon in retaliation.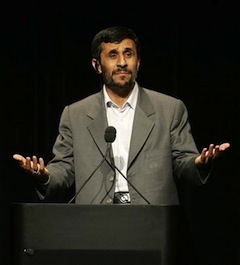 Of course the threat would likely have been taken more seriously if the aid was actually flowing. Despite officials saying the aid was about to be reinstated in mid-September, the US still hasn't resumed that aid.
Rather the US aid has been blocked since August, when Rep. Howard Berman (D – CA) announced he was ordering a full halt to punish them for a border clash with Israel. Though Rep. Berman has yet to comment on the latest row, others are saying the Ahmadinejad visit will make it "more difficult" to resume the aid deliveries.
The aid was aimed primarily around improving US influence over the Lebanese military, but since its withdrawal it has actually improved Lebanon's ties with Iran, which has offered to replace the US aid.