Pakistani President Asif Ali Zardari believes that the United States has been secretly behind a number of Taliban suicide attacks across the nation, according to a detailed account from Bob Woodward's new book Obama's Wars.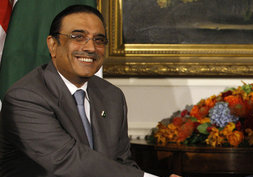 According to the book, Zardari expressed this concern to then-US envoy Zalmay Khalizad during a dinner, telling him that they were being arranged by either the US or India and that he "didn't think India could be that clever."
Met with shock by Khalizad, Zardari explained that it was part of a US plot to "destabilize Pakistan so that the US could invade and seize its nuclear weapons." Zardari also apparently claimed that Afghan President Hamid Karzai had told him the US was responsible for the attacks.
The claims continued to get more elaborate, as Zardari claimed the CIA was overtly supporting Baitullah Mehsud and that the US had "revealed its support of the TTP." Mehsud, the former leader of the TTP, was assassinated in August 2009, and has since been replaced by Hakimullah Mehsud.