Though the Palestinian Authority has rejected an Israeli demand for them to declare their public recognition of Israel as a uniquely "Jewish" state, citing concerns for the nation's Arab minority, the US State Department has been Johnny-on-the-spot with its own unsolicited declaration that they are committed to Israel's status in that regard.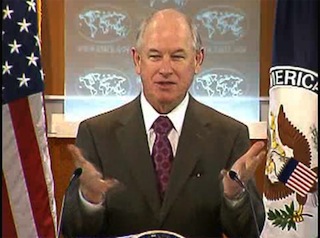 "We recognize the special nature of the Israeli state. It is a state for the Jewish people," declared spokesman P.J. Crowley. Crowley added that it was a "core demand of the Israeli government, which we support."
The Palestinian Authority has insisted that it is not up to them to define their neighbors' status, and expressed concern that such a recognition could harm the status of Israel's large non-Jewish population. Israeli Foreign Minister Avigdor Lieberman today suggested during a meeting with his Finnish counterpart that the PA's refusal was part of an Arab plot to "delegitimize" Israel and carve out a number of additional Arab states inside Israel. It seems however that the case for such a move would be greater with the recognition, as it would cement the Arab minority's second-class status.
Which seems to be of concern to European Union officials, who today warned that Israel needed to guarantee equal rights for all citizens no matter what sort of label they attach to the nation. Israel recent approved a demand for new, non-Jewish citizens to swear loyalty to Israel as a "Jewish State," but members of its government have pushed to extend the demand to all non-Jews.