The FBI is confirming that this morning they began a number of "raids" against the homes of antiwar activists, claiming that they are "seeking evidence relating to activities concerning the material support of terrorism."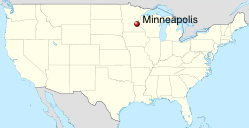 So far there do not appear to have been any arrests related to the raids nor, according to FBI spokesman Steve Warfield, are there any expected. He also insisted that there was "no imminent threat" related to the antiwar organization targeted. Some of the activists say they were ordered to appear before a grand jury, however.
The warrant against antiwar activist Mick Kelly's home cited efforts to look into his ability to "pay for his own travel" to Palestine and Colombia and appeared to have been little more than a fishing expedition looking for possible links to "foreign terrorist organizations including but not limited to FARC, PFLP, and Hezbollah." Kelly insists that the raids were about harassing antiwar organizers.
Officials said they were related to a Joint Terrorism Task Force investigation. The JTTF in Minneapolis has a long history of heavy-handed investigations against protest groups, including an attempt in 2008 to infiltrate a vegan potluck.
Most of the raids were conducted in Minneapolis and were related to antiwar leaders in that city. Other raids were also reported in Chicago, Michigan, and North Carolina. Many of the homes targeted in Minneapolis were related to the Marxist-Leninist group "Freedom Road Socialist Organization" (FRSO) but this was not the only group targeted.
According to Reuters, Chicago antiwar activist (and longtime gay rights activist) Andy Thayer was also targeted, which he attributed to "solidarity work, for speaking out on the issues of the day."
CNN also listed the Palestine Solidarity Group, the Twin Cities Antiwar Committee, and Students for a Democratic Society as groups whose members were targeted. The Twin Cities Antiwar Committee's office was also raided according to the group's attorneys.