Somali insurgents launched an attack this morning against the self-proclaimed Somali government's complex, killing three soldiers and wounding a member of parliament. The strike came while parliament was in session.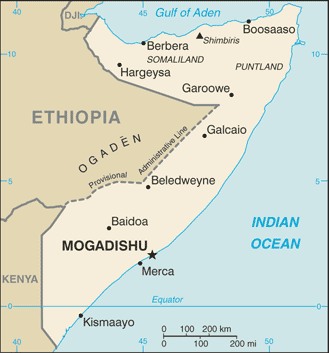 The African Union troops, which have been propping up the government, responded to the attack by firing a number of mortar shells against the Baraka Market, one of the busiest marketplaces in Mogadishu.
According to ambulance services at least 12 people were killed in the shelling and another 40 were wounded, seemingly all civilians. Children were among the casualties of the strike.
African Union troops have regularly responded to attacks by al-Shabaab with attacks on civilian neighborhoods, arguing that even densely populated neighborhoods are legitimate targets since they are under militant control.
Internal AU reports have expressed concerns over the large numbers of civilians killed in indiscriminate attacks by AU forces. Despite the massive evidence to the contrary, AU military officials insist the "extremists" are responsible for all civilian deaths in the nation.