US Ambassador to the International Atomic Energy Agency (IAEA) Glyn Davies again warned Arab nations against trying to push forward a non-binding resolution urging Israel to join the nuclear Non-Proliferation Treaty (NPT), insisting it might harm the Mideast peace talks.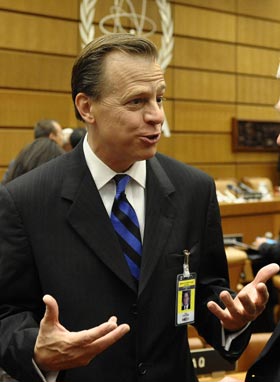 "We need to send a positive impulse to that broader peace process, not a negative one," Davies insisted. US officials had previously reacted with outrage when they learned that Israel's arsenal was a topic for discussion at the IAEA meeting, insisting it was "untimely and uncalled for."
But the issue of Israel's status as the only nuclear weapons power in the Middle East and the region's only non-signatory to the NPT isn't going away, and must continue to be an issue as the Nuclear Free Mideast push continues.
Israel has ruled out joining the NPT, claiming such calls are unfair, and President Obama has indicated that he is backing that position and that he believes Israel has an inherent right to the possession of nuclear weapons. President Obama also criticized his own vote in favor of the Nuclear Free Mideast resolution at the most recent NPT meeting, insisting it was a "mistake."