After some 10 months in detention Israeli military whistleblower Anat Kamm may soon be offered a plea deal, according to reports. The deal would have them dropping the most serious charge, that she deliberately tried to harm Israel's national security, but would keep a number of other charges which could lead to years in prison.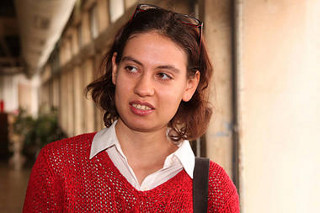 Kamm's plight emerged publicly in March, when it was revealed that the Israeli government had been keeping her under secret "house arrest" since December and was openly forbidden all media outlets from covering that fact. They dropped the ban in early April.
Her story was something of a parallel to the US military's detention of Pfc. Bradley Manning for leaking their secrets. As with Manning, Kamm appears to have grown disillusioned with military life before leaking evidence of crimes. She gathered massive amounts of data and leaked it to Israeli journalist Uri Blau, uncovering evidence that the military was openly flouting the rules of engagement decisions of Israel's High Court.
Blau, a reporter for Haaretz, has remained in exile since the Kamm arrest, with Shin Bet officials calling for his return and "interrogation" over the possession of state secrets. Most recent accounts have him in London waiting for the Kamm affair to be resolved.
Unlike the legal precedents under US law, Israeli law does not afford journalists protection for leaking classified data, and the Israeli military reserves the right to censor any story, whether or not it contains classified information, if they believe it will harm national security.