They're officially banned, the government is forever promising to crack down on them, and they're constantly being linked with terrorism. But for Pakistanis looking to donate to flood relief causes, the religious charities are also a popular option.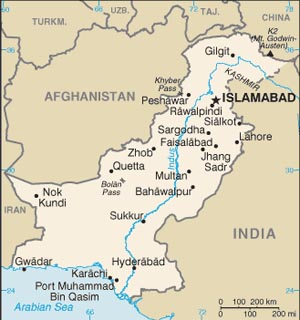 An article in today's Sydney Morning Herald makes it pretty clear why, as locals tell the paper that even if groups like the Falah-e Insaniat Foundation (FIF) are "front groups" for terrorists, they tend to be more effective and more trustworthy than the government, which is also trying to solicit donations from them.
Pakistan's government has been notoriously slow to react in crises, and most of the "first responders" in the flooding were members of banned Islamist charity groups like the Jamaat-ud Dawa (JuD). With tens of millions still in need, these groups are making enormous efforts while many continue to criticize the official response as sorely lacking.
Which has led many to expect that the efforts to "ban" these charities and arrest their members as terrorists is mostly about the government's inability to solicit donations, because locals believe that much of that money would end up in the pockets of corrupt politicians. At the same time, it seems that an enormous number of Pakistanis are going to come out of the flood crisis owning these groups a debt of gratitude, and could reshape public opinion in the nation for years to come.