Though the survival of the talks remains very much in doubt, the preliminary meeting today appears to have been a "modest success," with Palestinian Authority President Mahmoud Abbas and Prime Minister Benjamin Netanyahu agreeing to bi-weekly meetings starting September 14-15.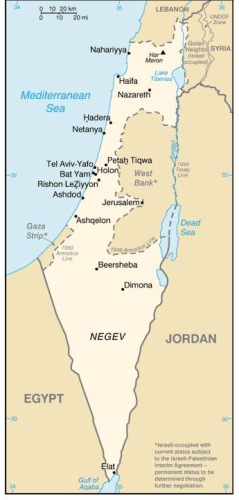 The talks will reportedly be aimed at producing a "framework" for a possible permanent peace deal, and the first meeting will likely be held at the Egyptian Red Sea resort town of  el-Sheik. The goal of the framework will be a final agreeing within a year.
But while all of this sounds extremely hopeful as a chance for a final settlement of the 60+ year long conflict, the reality is that the next round of talks may just as easily be the last, as both sides still appear willing to end the talks over the issue of settlement expansion in the occupied West Bank.
Meanwhile Hamas and a number of Israeli settlers are hoping to stop it even sooner, as Hamas launches attacks aimed at derailing the talks and Israeli settlers, led by MPs in the current ruling coalition flout the temporary partial freeze on construction, laying the ground fo more buildings which will themselves lay the ground for more decades of fighting.