Just two days ago Secretary of State Hillary Clinton was publicly condemning the killing of five election workers by militants in the Herat Province, insisting that the security of such workers must be assured at all cost in the name of a "democratic future." She insisted that those responsible "must be brought to justice."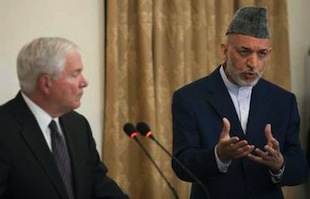 The attitude from the US was quite a bit different today, when NATO warplanes in the northern Takhar Province attacked a convoy of aid workers themselves, killing 10 of them and wounding a parliamentary candidate.
The killing was particularly inopportune for Defense Secretary Robert Gates, who had just arrived in Afghanistan in the wake of the strike to meet with President Hamid Karzai. Gates claimed during the conference that this was "the first I had heard that civilians have been killed," but Karzai was visibly angry during much of the press conference and the killings appear to have risen tensions considerably.
NATO has been dramatically escalating the number of air strikes in Afghanistan and it seems to be coming with a similar increase in high profile civilian killings. NATO initially praised today's attack as a "precision air strike" against a "known Taliban commander." The district governor mocked the claim, noting that "a Taliban commander does not travel in a 100-vehicle convoy."