Speaking today on Danish television, NATO Secretary General Anders Fogh Rasmussen lauded the "progress" being made in the war in Afghanistan, though he did concede that more improvement was still needed.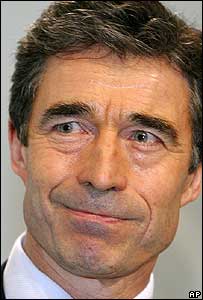 He also expressed hope that the November NATO summit would discuss the possibility of beginning a "gradual hand-over" of security responsibility in parts of Afghanistan to local government authorities.
Rasmussen also claimed that he supports the 2014 Karzai date for a total handover, which comes as something of a surprise as only last month he publicly disavowed the date and promised to continue the war "indefinitely" beyond that date.
At the same time, Rasmussen insisted that he agrees with the assessments of US commanders that the level of violence will continue to worsen in the coming months. It is unclear how the predictions of worsening violence will jibe with the claims of progress.