Local media outlets are reporting that the Ethiopian military has returned to Somalia and fought alongside troops loyal to the self-proclaimed Somali "government" against al-Shabaab militants.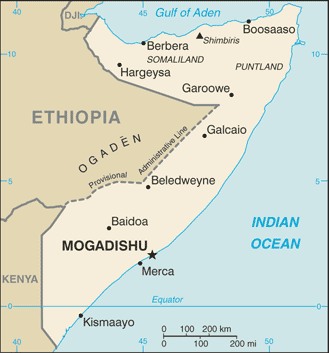 The news comes after a week of heavy fihting in which al-Shabaab looked to finally unseat the government and its African Union backers from its few city blocks around the presidential palace in the capital of Mogadishu. The battles are said to have left at least 115 dead and 200 wounded.
The biggest such incident was an attack against a Mogadishu hotel which left at least 31 people killed, including as many as 15 members of the Somali "parliament." The official toll of MPs has varied however so the figure cannot be conclusively confirmed.
Al-Shabaab has only existed since 2007, when it formed to contest the Ethiopian occupation of the country. The reported return of Ethiopian troops, along with the planned AU escalations may well give al-Shabaab additional support as it presents itself as opposed to international meddling in Somali affairs.