Speaking today to Fox News, US Commander in Afghanistan Gen. David Petraeus insisted that the "ultimate goal" of the nearly nine year long war is to enable the "reconciliation"of the Karzai government with the Taliban.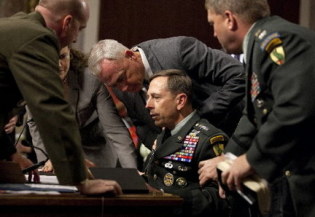 And while such talks have actually taken place (mostly with official US ambivalence), Gen. Petraeus says the war must continue until it "creates conditions" for a more favorable reconciliation.
According to Petraeus, Afghan President Hamid Karzai has laid out a number of "redline" demands, including that they accept the constitution and disarm, and that the war will have to continue until the insurgency meets those demands.
The Taliban has demands of their own, of course, and has repeatedly said that they would only accept a reconciliation deal if the international troops were to leave Afghanistan. In both cases the demands appear unlikely to be met.
Of course the failure of the peace talks so far has not happened in a vacuum, and earlier this week officials with the Pakistani government confirmed that they had sabotaged a previous peace deal involving Taliban moderates by arresting them en masse. Pakistani officials say they were worried that the deal was happening "behind their backs" and that the deal would hand Afghanistan over to pro-India interests.