US officials are predicting that the rising violence in Iraq is going to continue to trend higher throughout the month of Ramadan, which is scheduled to begin later this week, and that more high profile attacks are likely in the offing.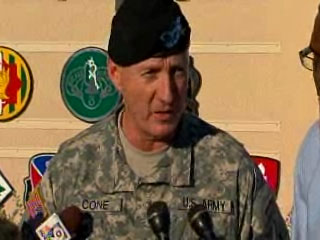 Lt. Gen. Cone
The prediction comes just a day after one of the deadliest weekends Iraq had seen in months, which prompted an admonishment by Gen. Ray Odierno not to "overreact" to the rising death toll.
Lt. Gen. Cone however said that the toll would almost certainly rise in the days ahead, as this had been the case on previous Ramadans.  He also pointed to the lack of an Iraqi government, over five months after the election as a cause for rising violence.
US military officials had been trying, unsuccessfully, to downplay the rising death toll, claiming a minuscule July toll for civilians which was readily proven false. In reality, July saw the highest civilian toll in over two years in Iraq.