Speaking today in an interview with the WHMI radio station, Congressman Mike Rogers (R – MI), the ranking member of the House Subcommittee on Terrorism publicly endorsed the execution of Pfc. Bradley Manning, declaring the detained Army intelligence analyst a traitor.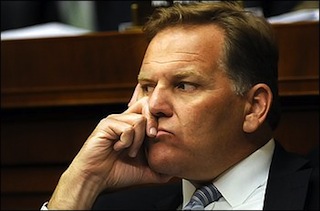 Rogers went on to insist that America's endless wars were being undermined by a "culture of disclosure" and that only Manning's execution could stop what he called a "serious and growing problem."
Pfc. Manning has been detained since June over his alleged role in the leaking of the "Collateral Murder" video, a classified Army video showing US soldiers in helicopters killing Iraqi civilians. Officials have also suggested Manning may have been involved in the much larger leak of Afghan War secrets last week.
Manning is currently charged with counts of violating army regulations related to the handling of classified information. Though he could face decades in a military prison if he is convicted, none of the current charges carries the potential of a death penalty.