A top volunteer with WikiLeaks, Jacob Appelbaum, was detained by US customs officials in New York today, following his return to the nation from a trip to the Netherlands. During the three hour detention, officials rummaged through his belongings, photocopied all of his receipts, searched his laptop computer, and seized his cellular telephones.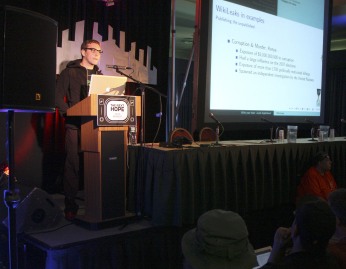 According to Appelbaum, the officials demanded to know his opinion of the wars in Iraq and Afghanistan, and also pressed him to reveal the whereabouts of Julian Assange, the WikiLeaks founder. He says FBI officials again accosted him at his final destination, Las Vegas, where he was to attend the DefCon conference.
Appelbaum, who works for the non-profit Tor Project, gave a talk at the DefCon conference regarding how to circumvent Chinese censorship of the Internet. In recent weeks, Appelbaum has repeatedly stood in for Mr. Assange in public appearances in the United States, as Assange's safety could not be guaranteed in the wake of several embarrassing leaks of US military secrets.
Mysteriously, the officials who detained Mr. Appelbaum told him he was selected for "random screening," even though they pressed him on WikiLeaks and members of the US Army were reportedly on hand for his questioning. He was not permitted to make any phone calls during his detention, but was eventually released. His phones were never returned.
Pentagon officials have been searching for Julian Assange for quite some time, and officials have refused to rule out "targeting" him for his role in the leaks of 92,000 documents related to the Afghan War. In an interview with Judge Andrew Napolitano on Fox Business yesterday, Assange said he was in London.