Speaking today on ABC's This Week, Secretary of Defense Robert Gates condemned WikiLeaks for releasing some 92,000 classified documents related to the Afghan War, claiming it was "morally wrong" to have done so.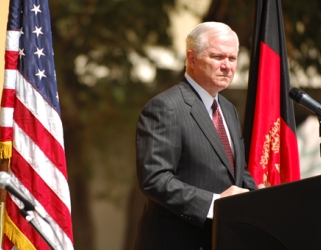 Though he conceded that it was not up to him to decide on legal culpability, Gates said that the protection of classified documents should be "sacrosanct" and slammed WikiLeaks for refusing to abide by his particular viewpoint on the issue.
The Obama Administration has angrily criticized the leaks, insisting that they amount to a "threat to national security." The documents detailed the massive civilian death toll and refuted a number of Pentagon claims of "progress" in testamony to Congress.
Though it does not appear that WikiLeaks has broken any laws in the publication of classified information, the Pentagon is still said to be "hunting" founder Julian Assange, who has called off recent trips to the US for security reasons. Secretary Gates has insisted Assange and others could be targeted in the future for the leaks.