During a public ceremony at NATO's headquarters, Gen. David Petraeus cemented his role as the new commander of the Afghan War with a formal assumption of command and an upbeat statement about the prospects of the increasingly disastrous war.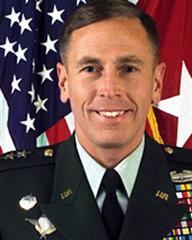 "We are in this to win," Petraeus declared at the ceremony, "we have arrived at a critical moment." Petraeus went on to praise his predecessor, Gen. Stanley McChrystal, and to promise no major changes in the war's strategy.
Petraeus' comments, of course, are hardly unique, as he is just the latest in a long line of new commanders promising to change the war for the better, and the latest in a long line to declare the conflict to be in a "critical moment."
Petraeus takes command just days after the deadliest month in the war came to an end, and amid growing doubts that the war will ever come to an end. Though the general tried to put an upbeat face on the matter, exactly what a "win" will look like nine years after the invasion remains unanswered, and the momentum seems to be in favor of the war continuing for many, many more years.
Last 5 posts by Jason Ditz