In its daily briefing the White House today refused to endorse Gen. Stanley McChrystal, the administration's current commander in Afghanistan, and suggested that he may well be fired following his Thursday meeting with an angry President Obama, a meeting for which he was ordered to return.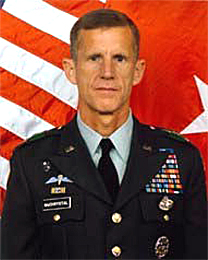 "I would say all options are on the table," White House Press Secretary Robert Gibbs said of McChrystal's status after the upcoming meeting, using the terms the White House normally reserves for its regular threats to attack Iran to discuss the future of the commander who just 12 months ago was installed by President Obama and whose strategy he has openly endorsed.
Gen. McChrystal's current predicament came as the result of a recently released profile/interview published in Rolling Stone magazine. In the interview, McChrystal and top aides openly deride virtually every top administration official, calling National Security Advisor James Jones a clown and telling the magazine, on the record, that they believed President Obama is "intimidated" by the Pentagon brass.
McChrystal had openly sparked the ire of the administration in October with a similar scandal, openly mocking Vice President Biden's Afghanistan strategy at a time when it was competing with his own McChrystal Plan.
Having shrugged off that incident and won another major escalation of the war in December, McChrystal's confidence seems to have been soaring, confident that as the man picked to lead President Obama's centerpiece war, he was all but untouchable.
Yet with growing questions about the disastrous results of the McChrystal Plan, the general is in many ways falling into the same trap as Gen. David McKiernan, who he replaced last year. His war is failing, and while the administration doesn't want to openly admit to the terrible situation on the ground (particularly as it angles for yet more emergency funding), McChrystal himself could be swept under the rug conveniently by a scandal such as this, and his plan replaced with someone else's plan, which will likely be little different but will at the very least be "new" enough that officials won't be comfortable labeling it a failure yet.