Timely as the "McChrystal Plan" for Afghanistan seems to be falling apart at the seems, Gen. Stanley McChrystal has been summoned to Washington DC for a serious talking to at the White House after a Rolling Stone magazine article quotes McChrystal repeatedly mocking and deriding top officials in the Obama Administration, including the President himself.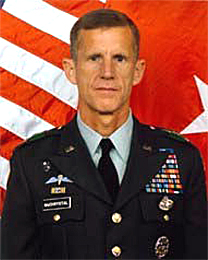 McChrystal was quoted as calling President Obama "uncomfortable and intimidated" when dealing with top military people, and that he "didn't seem very engaged" in the Afghan War. His staff also refers to Vice President Biden, an opponent of the latest surge as "Bite Me."
It doesn't stop at the very top, either, nor is it restricted to civilian leadership. Quotes in the article involve referring to National Security Adviser and former Marine Commandant Gen. James Jones as a "clown" and had McChrystal claiming that Ambassador Karl Eikenberry, himself a retired general who served in Afghanistan for years, had "betrayed" the military and "covers his flank for the history books."
Now McChrystal is being summoned to the White House, to meet with the President Obama and Vice President Biden. Whether Obama remains "intimidated" in the meeting remains to be seen, but the magazine article could serve as a convenient pretext to (eventually) oust McChrystal without having to publicly acknowledge how disastrous his policies of endless escalation have been.
Since replacing Gen. David McKiernan only a year ago, McChrystal has sold increases in the number of troops in Afghanistan as a recipe for success. He has also openly clashed with members of the administration, including Vice President Biden, mocking them in public speeches. While the Rolling Stone article is, in this context, just more of the same, it may prove to be the straw that broke the administration's back.