Days after Israel's first announcement to that effect turned out to be a fiction, the Israeli cabinet has now voted on what officials are calling a general aim to ease the entry of humanitarian aid into the Gaza Strip, though only through officially approved Israeli border crossings.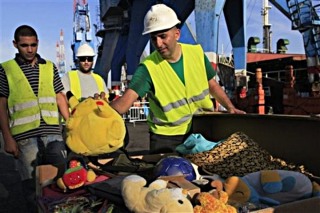 The latest statement says that Israel will soon release a revised list of "banned" goods for the Gaza Strip, things which Israel will not under any circumstances allow to enter the strip through either its crossings or by way of Egypt, which cooperates with the Israeli blockade. The list is said to be a considerable "liberalization" over the old list, and will remove in whole or in part, the ban on certain foods, like chocolate and spread margarine, which Israel considered too much of a "luxury" to permit in the tiny enclave. Toys and pencils, two other long banned categories of goods, are also said to be allowed.
On the other hand the Israeli government maintains that it will continue its ban not only on weapons but on "dual use" goods, which could mean that one of the most desperately needed goods, cement to repair the damage from the January 2009 Israeli invasion, may continue to be banned or severely restricted.
Israel has also used the term "dual use" broadly to restrict other goods in the past. At one point the Israeli military placed a 100% ban on all importation of shoes and clothing to the strip for years based on the argument that any clothing might be used as part of a military uniform and therefore could be classified as "dual use."
The revision comes amid growing international outrage over the humanitarian crisis caused by the Israeli blockade, and growing attention after the Israeli Navy attacked a boat carrying humanitarian goods to the Gaza Strip, killing nine aid workers.