Speaking during a Senate Appropriation Defense Subcommittee hearing today, Secretary of Defense Robert Gates demanded that the $33 billion war funding bill be approved by Independence Day.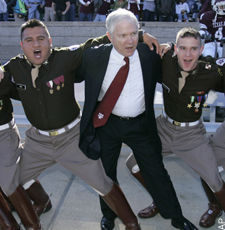 President Obama had promised that the emergency war funding bill passed last year would be his last one, and that future war expenses would be paid for with a record defense budget. This promise fell by the wayside, however, in the wake of December's escalation pledge.
"We begin to have to do stupid things if the supplemental is not passed by July 4," Gates warned. Exactly what these would be and how we would be able to tell the difference from ordinary Pentagon strategy was not clear.
With doubts on the war growing, the Obama Administration is likely to face a rare battle with Congress over the expenses. The Pentagon has angrily dismissed Congressional doubts about the war, insisting things are going according to plan.