At least 10 Pakistani soldiers were killed today and some 40 others, described as either "militants" or "miscreants" by Pakistani sources were also slain in a series of clashes in Bajaur Agency.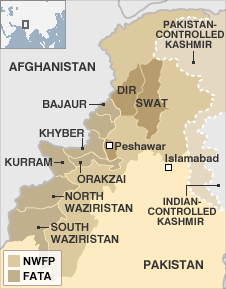 Pakistani troops have reportedly cordoned off the area, and say they have destroyed a pair of "Taliban hideouts" in the region. Dozens of suspects were also reportedly arrested.
Locals say that the Tehreek-e Taliban Pakistan (TTP) auxilliery has become more active in the area recently, handing out pamphlets and putting up posters warning people not to accept government jobs.
Pakistan's government has been issuing a number of warnings in the region as well, demanding that several suspected militants take jobs at the police force or risk having their homes demolished.