Britain's new coalition government has asked current military chief, Marshall Sir Jock Stirrup to retire early, with officials expressing concern that he was "too close" with the previous Labour government.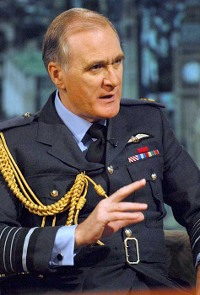 Sir Jock Stirrup
Sir Jock's ouster is not just a political move, however, as Foreign Secretary William Hague has publicly criticized the former defense ministry's priority in procurement and spending, particularly given the current budget crisis.
New Defense Secretary Liam Fox has suggested that the government is going to seek significant savings, and while cutting equipment programs was expected to be the main strategy, he said it was possible that significant cuts to Britain's uniformed troops would also have to be made.
Currently there are 190,000 uniformed troops in Britain's military, and the army is said to be Britain's smallest since Waterloo. Further cuts will almost certainly come up at some point as the government struggles with its expenses, but they could also spark a backbench revolt among Tories in the new government, many of whom still fancy Britain as a global military power and see a large military as a matter of national prestige.