A sparsely populated province consisting mostly of desert, Nimroz has long been one of the most peaceful provinces in Afghanistan by default. Hidden in the southwest corner of the nation, behind the much more active Helmand Province, it has been of no real interest to US forces or the Taliban.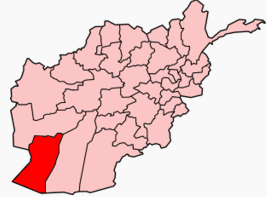 The US has claimed "security gains" in the province, but though some 2,000 Marines are nominally stationed here, local officials say they rarely stray from the tiny staging area in the northeast corner, and never stray into the provincial capital of Zaranj, a mostly Baloch town along the border with Iranian Balochistan.
It is here that locals say the insurgency is on the rise, with insurgents launching attacks on the city and killing members of the provincial council. In fact the council shuttered the doors of its tiny, bombed out headquarters in Zaranj and has relocated to Kabul.
The exact reason for the sudden interest in Nimroz is unclear, but with a growing number of US troops in Helmand it is possible they have simply relocated. Reports of militants running training camps in the desert, on both the Nimroz and Iranian sides of the border, also abound. The desert area across the border has long been a struggle for Iran, with its own Sunni insurgent groups, including the US-backed Jundallah, operating in the area. Now it seems that insurgency is an issue on both sides of the border.