For a region in which the Pakistani military only a week ago declared "victory," there is a surprisingly large amount of violence in the Orakzai Agency, where well over 100 people have been slain in the past week.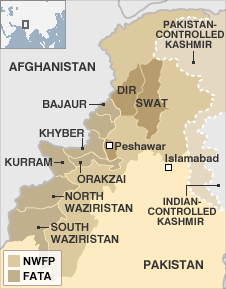 The latest clash involved militant forces from one of the various Taliban factions attacking a military checkpoint, killing at least six soldiers and leaving another eight wounded.
The Pakistani military responded by shelling the area they believed the militants came from and said that at least 35 fighters were slain.
The Pakistani military's shellings in the region have killed over 1,000 "suspects" since the beginning of the offensive, but with no journalists on the ground independent verifications of who is exactly being killed and in what numbers remains impossible.